Elixir Universe Presents -
Longest
108 DAYS
Free Intentive Distance Healing Program
for Physical, Mental & Emotional Layer
"I invite you to this feast of Divine Bliss, Divine Healing, Reiki Healing which is pouring around you, even in this your hard time,  I hope you will come and enjoy the Divine Experience of the Life Eternal."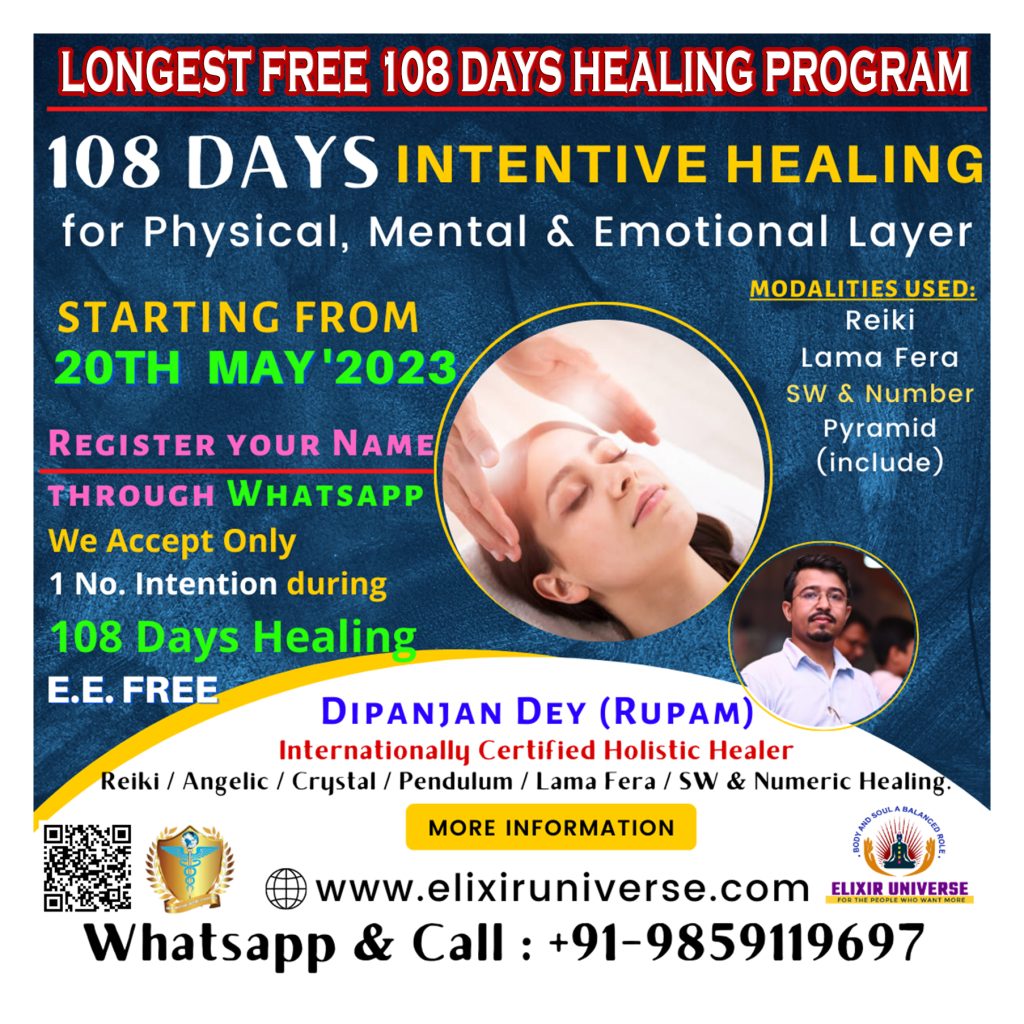 STARTING FROM 20th MAY 2023 TO 108 DAYS DAILY
You No Need to Pay For Longest 108 Days Free Intentive Distance Healing Program.
So you are not going to pay a single pie for that. It's coming to you absolutely free for 108 Days Distance Healing. It's Love, only Love, you cannot purchase or buy this, its priceless."
"LONGEST 108 DAYS FREE INTENTIVE DISTANCE HEALING PROGRAM."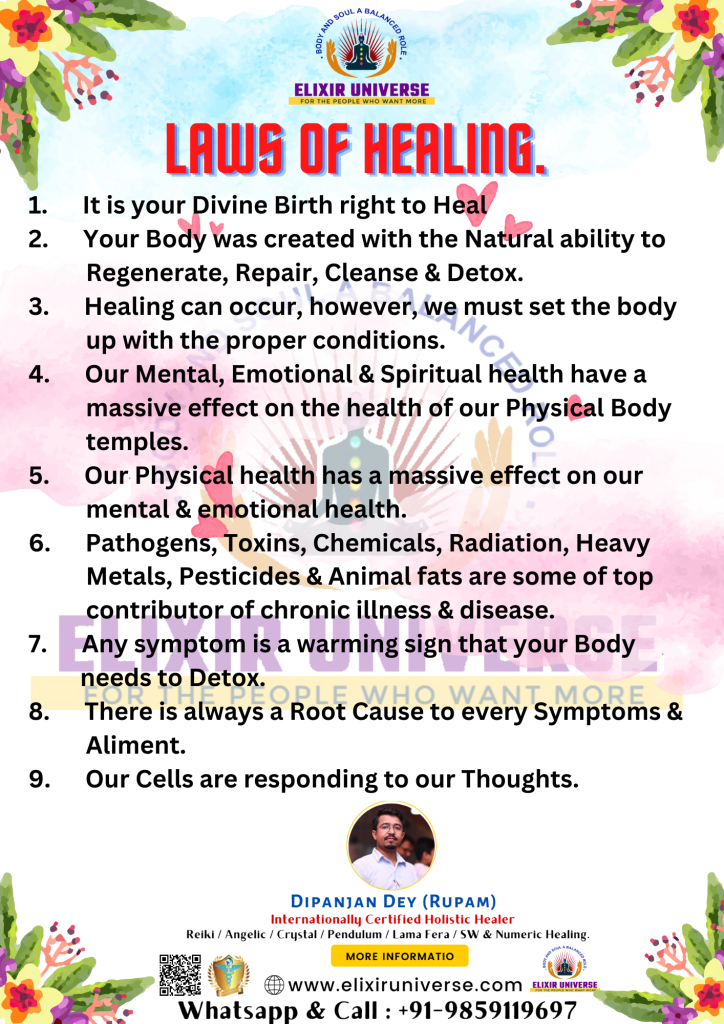 You are Strongly Welcome to Our Longest Free 108 Days Intentive Healing Program.
The Healing Program id Running by Dipanjan Dey (Rupam) Founder of Elixir Universe, A Internationally Certified Healer.
By the Blessings of Universe, Lord Buddha, Reiki Energy, Angelic Energy, we have organised

Longest 108 Days Free Intentive Healing Program (Distance Healing)

for all needy people.
The greatest Gift you can give your self is to Breath and Relax and to go deep into all your Chakra's

(Energy Center of Body)

to free Yourself from all the Fear, Pain, Resentment, Blame and Guilt etc., that got frozen in time, frozen deep inside the cells in your body and in your

Auric Field,

causing disease, anxiety and discomfort etc.
Our

LONGEST 108 Days Free Healing Program

Offers you the Opportunity, from the comfort zone of your Home and without doing anything specific, you can take advantage of it with continuing your Regular Routine.
Registration Form (Click Bellow Icon)
Website : www.elixiruniverse.com
❤️ *Thanking You*❤️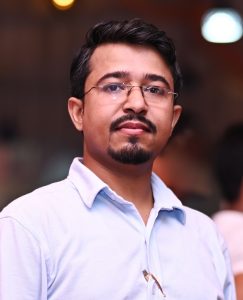 Elixir Universe is run by

Dipanjan Dey (Rupam), Certified International Traditional Healer –

Holistic Therapist cum Healer (Reiki / Angelic / Crystal / SW / EC's / Numeric) who is a Certified Master Healer of Reiki, Angel Healer & Master Healer of Lama-Fera (World Most Fastest Healing). Fully trained and Insured. Certificates and Professional Insurance is on display. As a Healer of the Reiki,Angel, Lama-Fera, SW Healing and other modality, a code of ethics must be followed and a commitment made to professional development. Confidentiality is strictly maintained.
We are situated in a Assam, India, where we are passionate about helping others to really relax and enjoy time to themselves through a range of beautiful treatments. Our aim is to make you feel special, pampered and totally at ease and to forget the strains of everyday life. We have created a luxurious, soothing and calming space. A mini heaven for tranquility and relaxation.
SOME IMPORTANT NOTES FOR ALL : 
1. During Healing Time/Days all participants should be in Gratitude to the Universe, Reiki Energy, Healer (Dipanjan Dey), Family, Relatives, Health, Wealth etc.
2.

Energy Exchange for anyone is FREE of Cost

.
I request all of you, kindly to serve some water to plant and a Packet of Biscuit, Water bottle or any kind of help (as per your effort and wish) to any Orphan Child/ Poor People/ Hungry Dog or any others in  Daily/Monthly/Weekly basis as per your convenient time, by doing any kind of service to our

Mother Universe

, you gets Rewards in your Life Multiple Times.
3. After Completion of the 108 Days Healing Session, "Elixir Universe" will provide

e-Certificate

and

Digital Membership Card

to the participant who received Healing, in exchange of Rs. 150/- (for our Certificate and Membership Card Designer)

(Completely Optional if anyone need Certificate and Membership Card)
Benefits of Membership Card:
1. If anyone have a Membership Card, Elixir Universe will connect Membership Card Holder directly in future when Free Healing Session will be Organize.
2. Discount will be provide in Energy Exchange for One to One Paid Healing/ Reading Sessions/Any other Healing Services etc.
3. All Time WhatsApp / Call Supports.
4. We provide Time to Time Remedies for your wellness.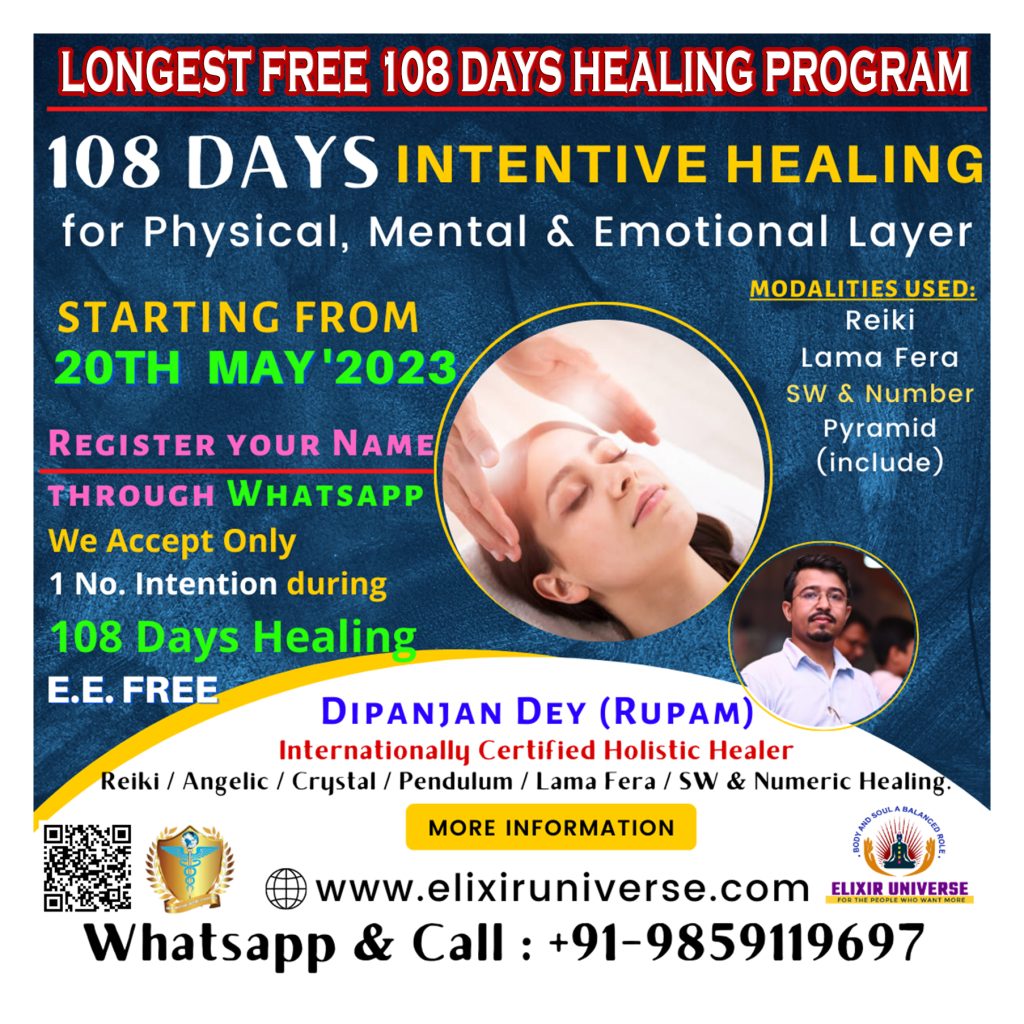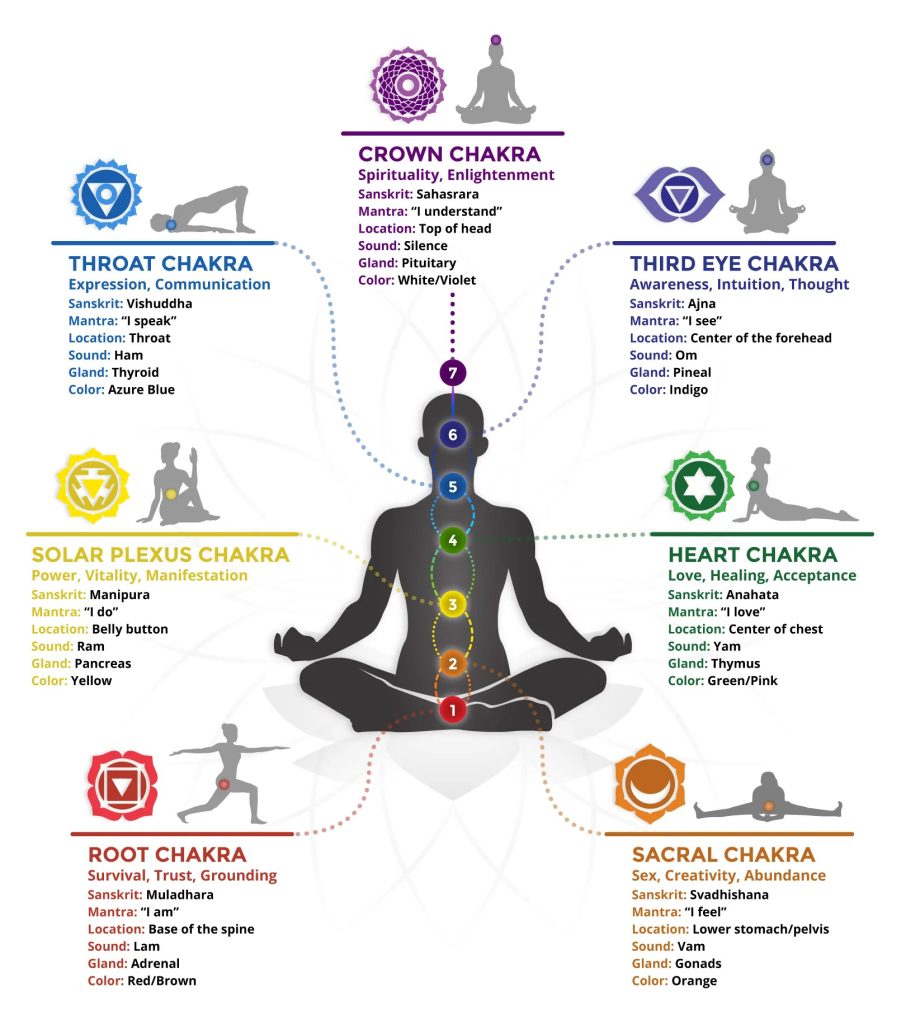 Collected from Google Image
Our Mission Is to Provide a Professional & Honest Approach to Energy Healing
A form of complementary and alternative medicine based on the belief that a vital energy flows through the Human Body. The goal of Energy Healing is to Balance the Energy Flow in the patient. It is used to reduce stress and anxiety and promote well-being. Energy healing is being studied in patients receiving cancer therapy, to find out if it can improve quality of life, boost the immune system, or reduce side effects. Also called energy therapy.
We all learned in School physics class that matter is made up of molecules. Even something that is solid, such as a table, is vibrating all the time. As humans, we, too, are vibrating.
When you say a person has "Good Vibes," you're certainly talking approximately that individual's Vibrational power—and satisfied humans tend to vibrate on a better frequency.
Places have vibes too. When you walk into a room in which a fight has just occurred, you may feel a dense energy that makes you want to leave right away. The beach has a light vibe due to the salt (a natural energy cleanser) and moving air. The air at the beach vibrates at a higher frequency as well.
Sacral Chakra or Svadishthana
Solar Plexus Chakra or Manipura
Throat Chakra or Vishuddhi
Crown Chakra or Sahasrara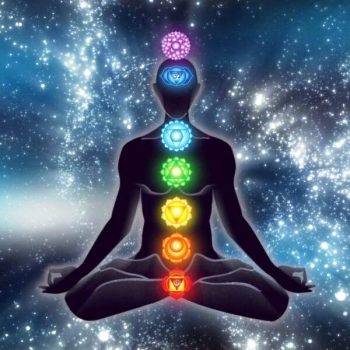 Some Reiki Healing Stories (Must Read)